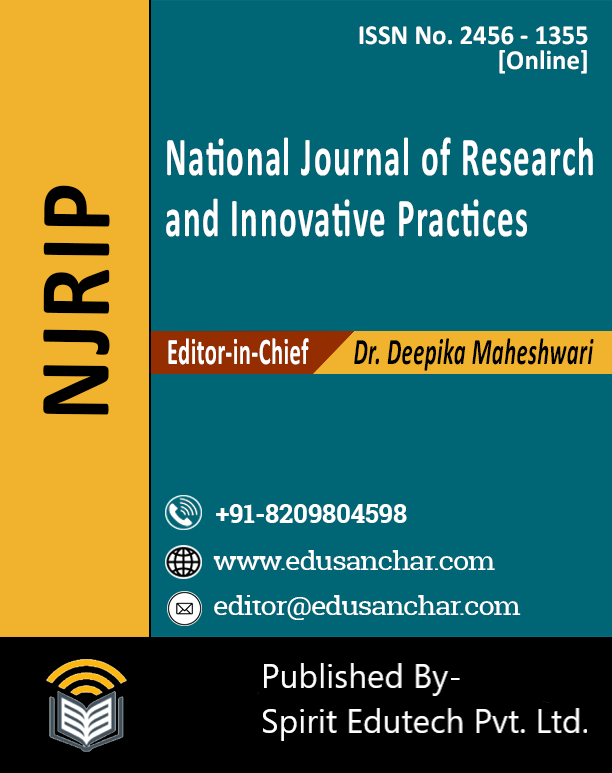 Life Satisfaction of a Teacher; A journey of Positive Attitude
Author Name :- Shilpa Mathur,Dr. Sonika Kakkar,
Journal type:- NJRIP-National Journal of Research and Innovative Practices
Research Field Area :-  Department of Education ; Volume 4, Issue 5, No. of Pages: 5 
Your Research Paper Id :- 2019050118
Education is a continuous process. It may be formal, informal or non-formal. In formal education teacher has a very important place in improvement in education. Teacher's role in society has been changing with time but the importance of this position is same. The teacher is the pre-requisite of the success of educational programmes. The main quality of the teacher is the positive attitude towards education. He or She must have the ability to get satisfied from their respective jobs. Therefore educational programme should inculcate the qualities in teacher, so that they may produce their best to impart education to students. The attitude of teacher towards education influences the nature and extent of their participation in the education and related educational programme. Developing teachers with desirable attitude or by shaping their attitude in desired, effective and productive learning on the part of pupils can be achieved. Education is a man making process; its specific role is to accelerate the holisctic development of the body, mind, intellect and emotions. The system of education in India has conformed to the ideals and the objectives that the people have been setting before themselves. Education is a continuous process and is promoted by almost every experience in life. Everyone who remembers his own educational experience remembers teachers, not their method and techniques.
Keywords :- 
Education, Life Satisfaction
References :-
[1] Ahmad Nobi, Raheem Abdal and Jamal Sajid, Job satisfaction among school teachers, The Educational review, Volno.7.Brunetti, Gerold J. (2001), why do they teach? A study of job satisfaction among long term high school teachers,Teacher education Quarterly, Vol 28 No.3.
[2] Dhingra, Ranjeet Kaur, Effect of organizational climate on job satisfaction of secondary school teacher, M.Ed. Thesis, Punjabi University Patiala.
[3] Diener, E. (1984). Subjective well-being. Psychological Bulletin, 95 Erquhart, Joe Ann, Job satisfaction of middle school principals in Virginia, Dissertation Abstract International, Vol7, Jan.
[4] Howery, B.B., Teacher technology training: A study of the Impact of Educational Technology on teacher attitude and student achievement, Dissertation abstract International, Vol 62, no.3, September.
[5] Kakker, S.B., Attitude of the teacher training and their parents towards teaching, The educational Review, Vol 12. Noll, Rachel, Factors that influence teachers job satisfaction, work in progress (Conference Abstract).
[6] Rama, K.V., Attitude of teachers towards teacher centers, The educational Review, Vol 10, Shukla, Sharddha, Attitude of courage teachers towards profession, The progress of Education, Vol lxx11, 3 .
[7] Singh, Hartez, Impact on terrorism on physical education teachers of Jammu and Kashmir State in relation to theirJob satisfaction, Personality and attitude towards education, Ph.D. Thesis, Punjabi University Patiala.